How businesses registered during the massive infrastructure strikes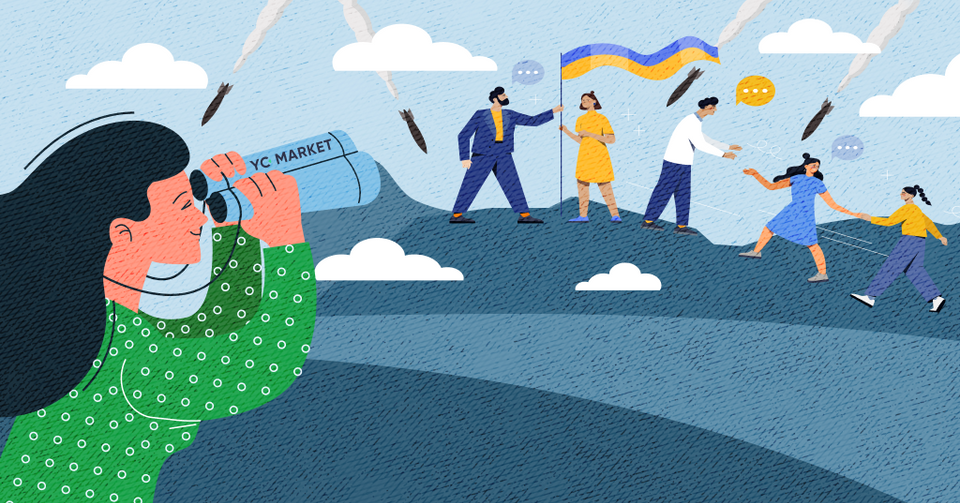 Resilience Amidst Adversity
Since the beginning of October, russia has massively shelled the energy infrastructure of Ukraine 8 times, apparently hoping to affect our economy and sow panic in society. However, indomitable Ukrainians managed not only to establish business processes but register 33 thousand of new individual entrepreneurs and almost 5.5 thousand legal entities even in the blackout conditions. YouControl Market analysts investigated which areas and regions the newly created Ukrainian business chose from October 1 to November 30.

The expansion of fresh businesses and solo business owners slightly decreased
According to the Air Force of the Armed Forces of Ukraine and the General Staff of the Armed Forces of Ukraine, the russian federation fired almost three and a half hundred cruise missiles and several hundred Iranian drones at Ukraine on October 10-19, 22, 31 and November 15 and 23. But massive strikes and blackouts did not prevent the registration of Ukrainian businesses.
From October 1 to November 30 inclusive, slightly more than 33 thousand individual entrepreneurs and almost 5.5 thousand legal entities were registered in Ukraine, 20 of which re-registered. The most significant number of individual entrepreneurs appeared on November 1 – 1300. And the peak of registration of enterprises was on October 19 and amounted to 176 legal entities, respectively.
Compared to the same period last year, the growth of new companies and individual entrepreneurs has slightly decreased. In particular, about 9 thousand companies were registered then, which is 40% more than this year. And about 44.5 thousand individual entrepreneurs were registered in October-September 2021, which is 26% more than in 2022.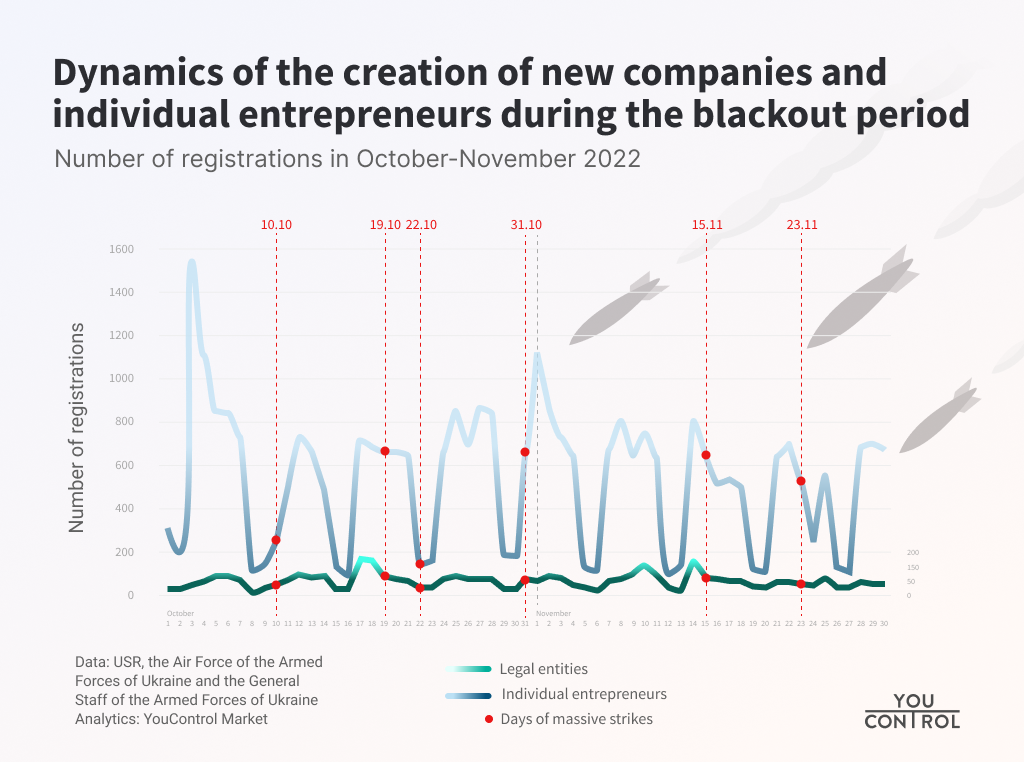 Places where the formation of new companies is most frequent during the power outage
The capital has traditionally been the most active in registering new businesses. In Kyiv, from October 1 to November 30, almost 2 thousand companies and 5 thousand individual entrepreneurs were registered. That is 35 and 15% respectively. Lvivska (9.4%) and Dnipropetrovska oblast (7%) are the three leaders in creating enterprises. As for individual entrepreneurs, Lvivska oblast is in second place after Kyiv (8.6%), and Dnipropetrovska oblast is in third place (8.4%).
New businesses choose sales and IT
Traditionally, the most popular business activity for newly created enterprises and individual entrepreneurs was wholesale and retail trade. Almost 27% and 36%, respectively. Exciting point: there was an increase in new companies in the IT sector for 2 analysed months in Ukraine. Among the newly created ones, almost 20% of individual entrepreneurs and 5% of enterprises chose this area. Also, legal entities have increased their presence in healthcare (14%) and other services activities (11%). In addition, the number of enterprises increased in the processing industry (almost 7%), administrative and support service activities (5.7%) and logistics, in particular postal and courier activities (5.5%). But the number of individual entrepreneurs, except IT, increased in professional, scientific and technical activities sections – more than 10%, logistics – almost 8% and 6% in food service activities.
According to Roman Kornyliuk, Doctor of Economics, statistics on starting a new business show that Ukraine's economy proved to be quite stress-resistant to external wartime shocks, as new companies and individual entrepreneurs, albeit at a slower pace, continued to register in the autumn of 2022.
"The sectors most resistant to the negative effects of the blackout are trade, logistics, IT, medicine, and catering, whose business units most often appeared on the country's business map during the period of massive shelling. On the one hand, new businesses are mainly in the service sector, less dependent on fixed physical capital. On the other hand, industries that provide basic needs for the population's life, safety and health have a higher chance of development. For some product groups, there is even a surge in rush demand, which new market players are trying to cover, like importers of generators, batteries, lighting and telecommunications equipment.
At the same time, we should not make a premature conclusion that the sectoral structural features of the new wave of business openings are determined solely by the factors of a full-scale war. After all, the sectoral distribution of new companies and individual entrepreneurs was similar previously. Finally, we can talk about the business achievements of new companies and individual entrepreneurs in wartime based on the year results and the analysis of their financial performance," R. Kornyliuk said.

Discovering recently established businesses and independent business owners
You can get information about Ukrainian business, its geography, types of business activities, financial indicators, experience in public procurement, contacts and other vital data with the updated YouControl Market tool. It allows you to search and analyse data on companies and individual entrepreneurs according to the specified parameters and monitor the creation of new ones in real-time.
Why YC.Market?
YC.Market is a complete source of open data on Ukrainian companies for making informed management decisions.
28 company search criteria, 8 sorting options for convenient and fast work with the tool.
The YouControl team has the most incredible experience and expertise since it has been collecting and processing open data for the safety and success of your business for 8+ years.
7.5 million companies and individual entrepreneurs in Ukraine are in our data lists that you can use.
Get unhindered access to data for operational market analysis in Ukraine and the UK to analyse the market, find new customers, partners and suppliers and make strategic decisions based on the data.